I.Advantages:
1.The brewing pipeline conforms to the beer brewing process, is simple to operate, easy to clean and operate; adopts the method of entering the wort from the side to reduce the oxidation of the wort;
2.Energy saving: the hot water is recycled to the hot water tank, and the condensed water is recycled to the boiler;
3.Labor-saving: automatic temperature control, PLC system to assist you in brewing; automatic variable frequency tiller and mixing improve work efficiency;
4.Adopting advanced world famouse brand components to ensure the smoothly running;
5.Support different heating way, steam, direct fire and electric, depending on site and local utility costs.
6.High-quality stainless steel material 304 or 316 and exquisite appearance.
7.Brewing vessel and fermentation tanks are tested prior to shipment to avoid on-site repairs, guarantee uninterrupted startup and assured vessel performance.
II.Product detail: 1000L 3vessel brewhouse with steam heating
Standard Configurations:
1.Brewhouse Capacity: 1000L 3vessel brewhouse with steam heating
2.Materials: SUS 304 or 316 Stainless Steel; Thickness: inner 3mm, outer 2mm, jacket is 1.5mm.
3.Interior Finish: Acid washing and passivation or mirror polishing, 0.2~0.4μm.
4.Manhole, top pressure glass manhole with LED sight.
5.Temperature measurement method: PT100 temperature probe.
6.Cleaning method: 360°Fixed rotate cleaning ball.
7.Heating system: steam heating, electric element, direct fire.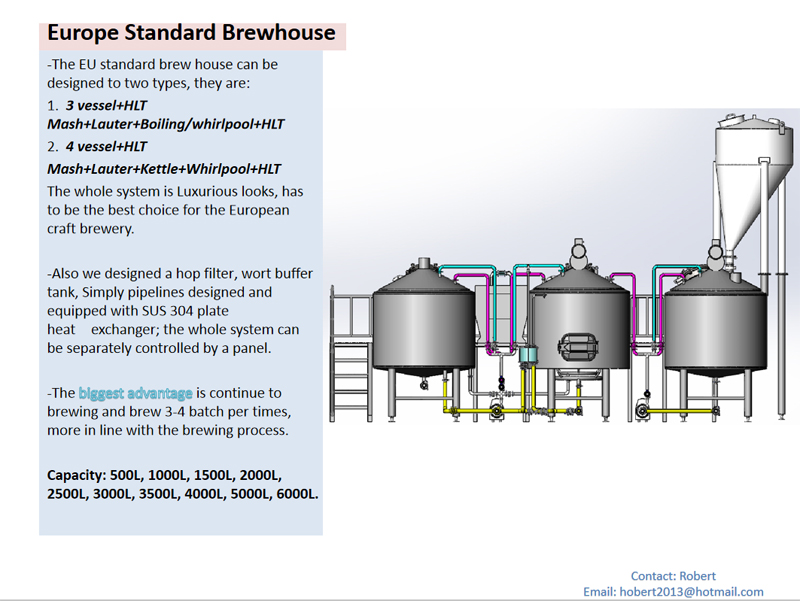 Specifications
1.Combined Brewhouse System, 3 vessel(mash tun, lauter tank, kettle&whirlpool), 1000L:
1).Mash tun: Function: Malt mashing
1.Machinical Agitation: With VFD control, at the top horizontal motor with seal.
2.Steam venting chimney with anti backflow pipe.
3.Condensate recycle to hot water tank.
2).Lauter tank: Function: lauter, filter the wort.
1.Sparging pipe for grain washing with TC connection.
2.Wort collecting pipe and back washing device to cleaning false bottom.
3.Mechanical Raker: VFD control, gear motor on the top.
4.Spent grain:Automatic raker device, Grain removing plate with reverse, forward is raker, reverse is grain out.
5.Milled false bottom: 0.7mm distance, diameter designed suitable for the lauter tun, with dense supporting leg, detachable handle.
6.Wort circulation inlet TC on top with elbow and mash inlet upon false bottom on side wall.
7.Side mounted spent grain port .
3).Brew kettle&Whirlpool tank: Function: Wort boiling, hopping and whirlpool
1.Whirlpool tangent pumped at 1/3height of the tank
2.Steam venting chimney with anti backflow pipe.
3.Condensate recycle to hot water tank.
4).Brewhouse pipes, Function: wort transfer from mash tun to lauter, and to kettle and so on.
1.Material: SS304 sanitary pipes.
2.Sanitary stainless steel valve and pipeline, Easy to operate and reasonable in design;
3.Wort inlet at side of tank to reduce the oxygen.
5).Plate heating exchanger, Function: wort cooling.
1.Two stage and six flow, hot wort to cold wort, tap water to hot water, glycol water recycle.
2.Design Structure: Suspension type, screw material is SUS304, nut material is brass, easy disassembled for cleaning.
3. Stainless steel 304 material
4.Design pressure:1.0 Mpa;
5.Working temperature:170°C.
6.Tri-clamp quick-installed.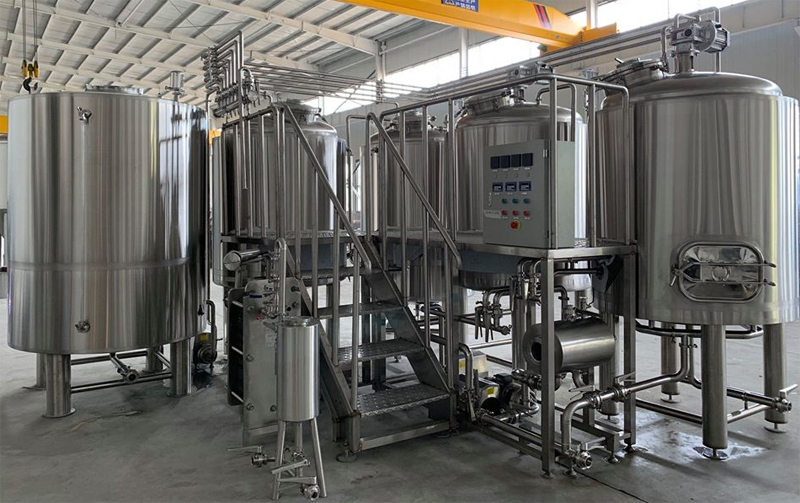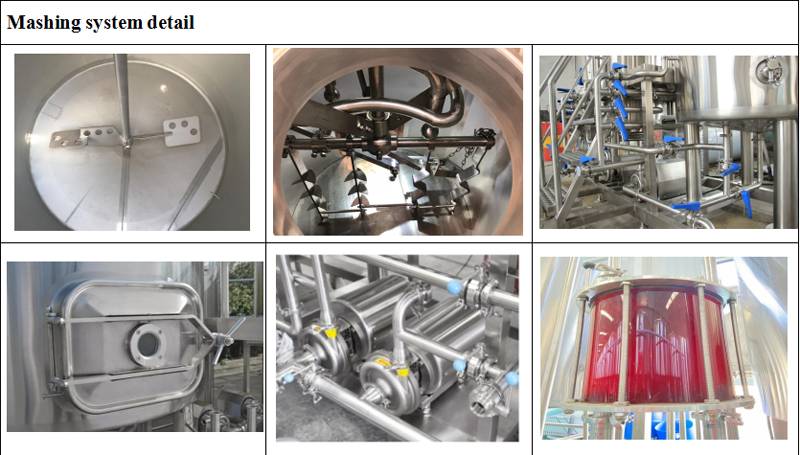 III.Production Process