Fruit Wine fermenter
A wine fermentation has two distinct stages: primary and secondary--also sometimes described as aerobic and anaerobic fermentations.
* The Primary Fermentation will typically last for the first three to five days. On average, 70 percent of the fermentation activity will occur during these first few days. And in most cases, you will notice considerable foaming during this time of rapid fermentation.
The primary fermentation is also called an aerobic fermentation because the fermentation vessel is allowed to be opened to the air. This air plays an important roll in the multiplication of the yeast cells.
* The Secondary Fermentation is when the remaining 30 percent of of fermentation activity will occur. Unlike the typical four to seven days the primary fermentation takes, the secondary fermentation will usually last anywhere from one to two weeks depending on the amount of nutrient and sugars still available.
So as you can start to see, the secondary fermentation is much slower with less activity at any given time. You will also notice the activity becoming slower and slower with each passing day.
The secondary fermentation is an anaerobic fermentation which means that air exposure is to be kept to a minimum. This can easily be done by attaching an air-lock to the fermentation vessel.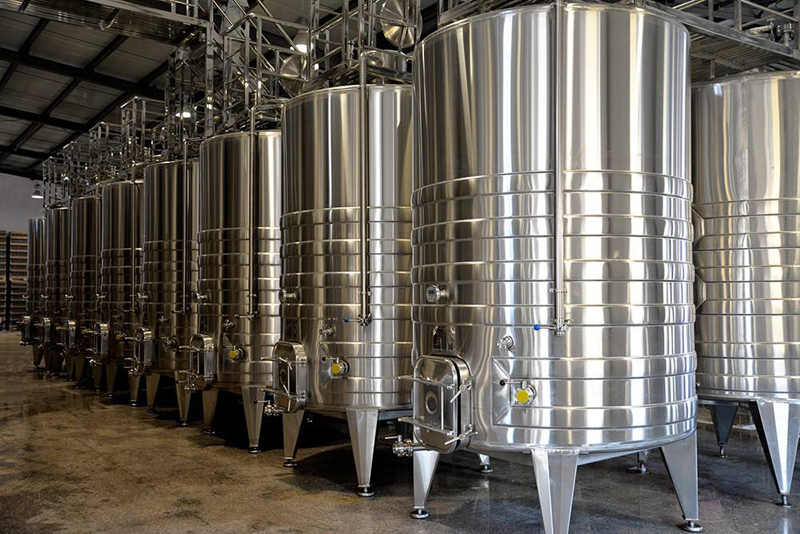 Description:
1.Volume: Requirement. Cylinder with inclined bottom.
2.Material: SS304, thickness: 2.0mm. Liner treatment: pickling passivation.
3.Dimension:
4.Cooling: Cooling with cooling jacket, cooling area: 2㎡, thickness of sheet is 1.5mm.
5.Cleaning device: cleaning tube and internal 360° cleaning ball.
6.Liquid level: cylinder glass tube liquid level display.
7.Supporting: water-sealed respirator, sampling valve, side thermometer, external opening normal pressure square manhole.
8.Wine outlet in the lower part, drain port at the bottom.
9.Matching valve and pipe fittings;
Wine Fermenters Parameter

No.

Name

Tank type

Material

Capacity

Standard size

Material thickness

Bottom Structure

Cooling/heating jacket

1

Wine fermenter

Standard/tapered

SUS304/316

1000L

φ1100*2200

t2.0mm

Sloping/conical

Dimpled/coiled

2

Wine fermenter

Standard/tapered

SUS304/316

1500L

φ1300*2200

t2.0mm

Sloping/conical

Dimpled/coiled

3

Wine fermenter

Standard/tapered

SUS304/316

2000L

φ1300*2600

t2.0mm

Sloping/conical

Dimpled/coiled

4

Wine fermenter

Standard/tapered

SUS304/316

3000L

φ1600*2600

t2.0mm

Sloping/conical

Dimpled/coiled

5

Wine fermenter

Standard/tapered

SUS304/316

5000L

φ1600*3500

t2.5mm

Sloping/conical

Dimpled/coiled

6

Wine fermenter

Standard/tapered

SUS304/316

5000L

φ1900*3000

t2.5mm

Sloping/conical

Dimpled/coiled

7

Wine fermenter

Standard/tapered

SUS304/316

6000L

φ1770*3700

t2.5mm

Sloping/conical

Dimpled/coiled

8

Wine fermenter

Standard/tapered

SUS304/316

7500L

φ2000*3700

t2.5mm

Sloping/conical

Dimpled/coiled

9

Wine fermenter

Standard/tapered

SUS304/316

8000L

φ2050*3700

t2.5mm

Sloping/conical

Dimpled/coiled

10

Wine fermenter

Standard/tapered

SUS304/316

100HL

φ2100*4400

t2.5mm/3mm

Sloping/conical

Dimpled/coiled

11

Wine fermenter

Standard/tapered

SUS304/316

125HL

φ2100*4900

t2.5mm/3mm

Sloping/conical

Dimpled/coiled

12

Wine fermenter

Standard/tapered

SUS304/316

150HL

φ2050*3703

t2.5mm/3mm

Sloping/conical

Dimpled/coiled