Features:
● Higher wort wort extract
● Lower energy cost and material consumption
● Well adjusted temp and water blending unit for better grain and water mixing
● Special designed steam jacket unit to increase steam using efficiency and avoid "water hammer" problem
● Special tank and piping construction to avoid the wort aeration problem and decrease the material lost
● Internal heater for separate kettle, working with cylinder and bottom jacket for better boiling effect.
● Possible to make boiling process under pressure, especially for brewery at higher altitude.
● Special designed steam condensing unit, with both steam condensing and water heating function
● Cellar tanks with good design updating for better cooling effect and accurate temp control
● Pre assembled cellar piping, with cat walks for operation on top or manifold or piping corridor
● Cooling unit for current use and well prepared for future expanding
● Automation system with curve indication and production record printing, with recipe storage function, clients can create new recipe as the exact production requirement.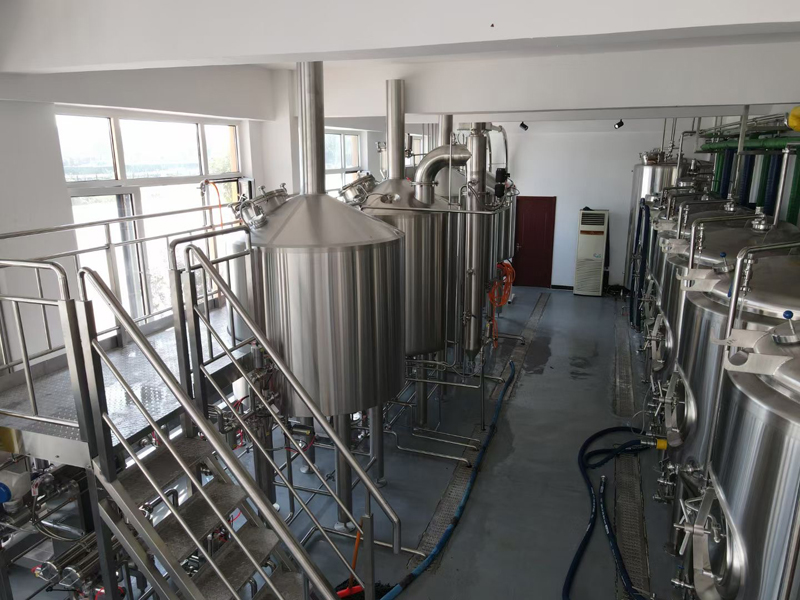 Basic configuration:
● Grain handling: Mill, conveyor (flexi auger or chain disc), hopper etc. With weight scaling
● Brewhouse: Three or four vessels, including piping, HE etc.
● Cellar: Fermenter, storage tank and BBTs, for fermentation of different kinds of beer, all assembled and isolated
● Cooling: Chiller connected with glycol tank for cooling, with ice water tank and plat cooler for wort cooling
● CIP: Fixed CIP station or Portable CIP unit
● Filtration: Diatomite filtration, membrane filter, Plate frame filtration unit etc.
● Compressed air unit and N2 generator, all piping line connected with system