Keg washer
This machine is mainly composed of frame, electrical control system, gas system, piping system and so on.
Its characteristics are as follows:
1.All technical parameters (time values) can be adjusted without stopping.
2.The main pipeline is designed in a straight line to the maximum extent and has strong cleaning ability.
3.Air-controlled double-acting angle seat valve, reliable action and high temperature resistance.
4.The main components are all international famous brand products with reliable quality.
5.2 or 3 water tanks are equipped to hold hot clean water, hot alkaline water and acid liquor respectively.
6.The machine has two washing programs.
7.Automatic temperature control.
The touch screen panel is shown as follows: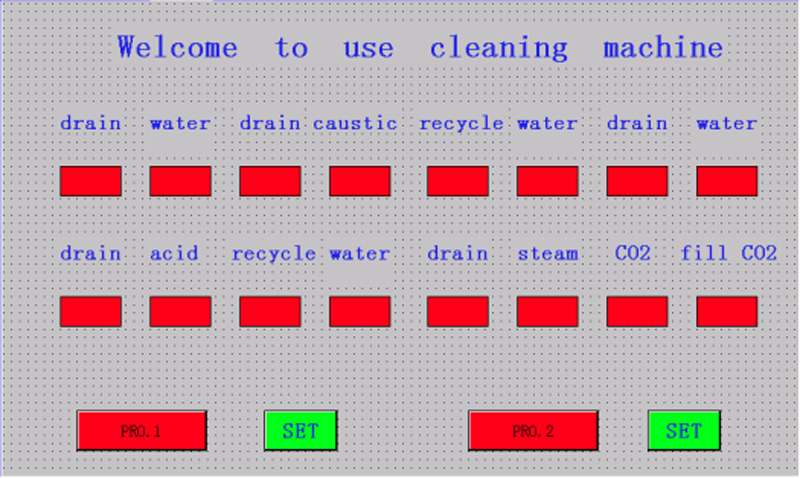 the program switches between program 1 and program 2.

Working Process
Put keg
→Air flushing (residual discharge) [Air flushing valve, sewage valve]
→Hot clean water flushing 【Hot clean water valve, sewage valve】
→Air flushing (drain clean water) [Air flushing valve, sewage valve]
→Hot alkaline water cleaning 【Alkaline water valve, alkaline water recovery valve】
→Air flushing (hot alkali water circulation) [Air flushing valve, alkali water recovery valve]
→Hot water cleaning 【Hot clean water valve, sewage valve】
→Air flushing 【Air flushing valve, sewage valve】
→Hot water cleaning 【Hot clean water valve, sewage valve】
→Air flushing 【Air flushing valve, sewage valve】
→CO2 gas flushing 【CO2 valve, sewage valve】
→ CO2 backup pressure [CO2 valve]