SEMI-AUTOMATIC BREWERY VS FULLY-AUTOMATIC BREWERY
Semi or fully automatic Brewery equipment options are the most common for the control system of a microbrewery system.
If you want to open your own brewery, it takes time to analyze the practical equipment needed to create more profit than a typical buy and sell the business.
Now, we live in an era where everything seems to be quite tech or advanced than the usual procedure we make.
Now, in a microbrewery, these are known for small type craft brewery business or sole leisure that people use and nothing more complicated like the larger brewery companies.
Microbrewery also needs equipment, the brewhouse, kegs and more.
For people who are into the brewery for business purposes, one must choose the practical way to earn more for a lifelong time as long as the business is running.
It will become an asset for you and your business partners.
The qualities you must possess is your determination on how big you want your business to be, whether a small type of local business or a big-time business to attract investors and promote bigger profit for your firm.
WHAT TO CONSIDER WHEN CUSTOMIZING A BREWERY?
In customizing a brewery, you must determine the size of your desired brewhouse, also on how your equipment goes with the brewery process.
Now, there are two types of micro-brewery plants, namely; the semi-automatic plant and the fully-automatic plant.
The semi-automatic plant comes from the classic microbrewery process where the workforce is essential to the brewery process.
On a semi-automatic microbrewery plant, it is most likely to be on a retail type of selling for it can only maintain a small number of products per batch. Upon planning your microbrewery business, you must know first to whom you will be distributing your product or your direct outlets, on a semi-automatic microbrewery that can only make limited brewed beer.
On the other hand, the fully automatic Brewery equipment plant uses more complex and larger equipment to brew beers per batch. This type of microbrewery plant can exceed the amount of brewed beers semi-automatic microbrewery plants can make, resulting in a much faster production that is beneficial for entrepreneurs aiming for a bigger business enterprise.
Although, the downside of having such big microbrewery plant is the investor and to whom your outlets will be directly delivered to, or it may be put into waste because of the surplus of your product.
ESTIMATING THE COST OF BREWERY EQUIPMENT
SEMI-AUTOMATIC BREWERY VS FULLY AUTOMATIC BREWERY EQUIPMENT
Semi-automatic brewing: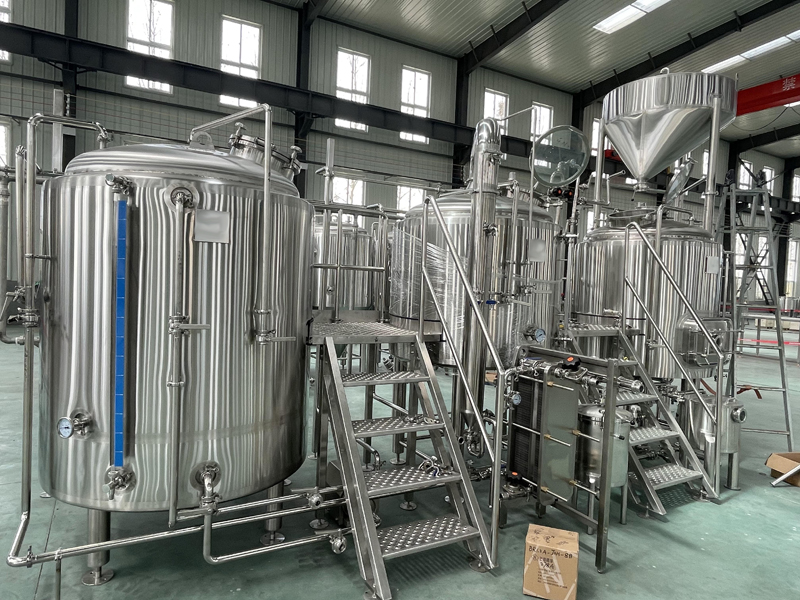 On the semi-automatic brewery plant, it includes brewing installation, training and beer recipes that are used in the manual brewery. It depends on a more traditional way of the microbrewery. There are many options for semi-automatic systems,You can find systems with different capabilities in a very wide price range.
However, it also means you lose some control over the duration of the brew. While any brewery can brew beer, differences in production efficiency can make a huge difference. Use semi-automatic brewing equipment;
Pros:
&Can start a brewery on a limited budget
&Take a moment to enjoy brewing
Cons:
&Requires labor to complete the entire brew
&Temperature control is essential during the brewing process, which will require some "stand by the pot" time.
&You still need to be present at at least one stage of the brewing process: mashing, jetting, jumping, boiling and cooling,
&The brewing process will last at least 5 hours, not to mention the equipment CIP cleaning.
&You may be brewing continuously throughout the day
Let's we see Fully Automatic Brewery equipment: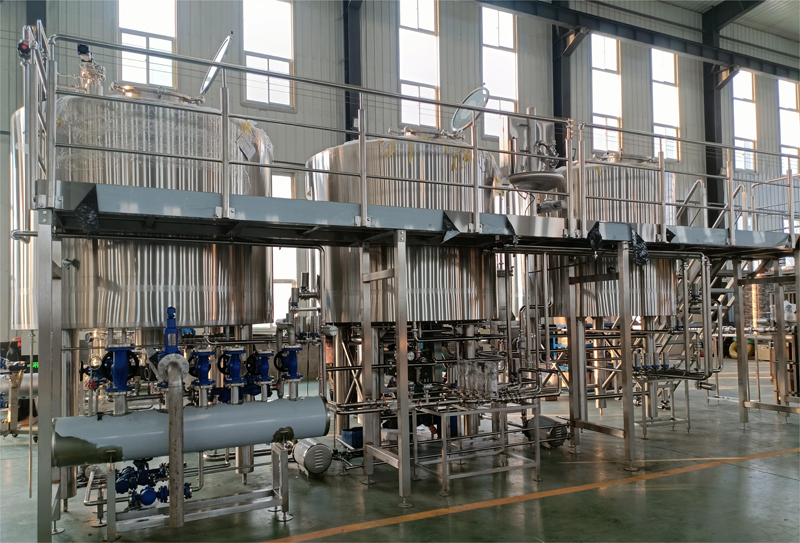 When you want to increase the business and scale of your brewery, then increasing the production capacity is something you must consider.
Full automation allows you to preset everything in advance and only requires you to be present to load the ingredients and then finally transfer the prepared wort to the fermenter, If you have a great process or recipe, then fully automatic is the best option you can, as it will give you a uniform taste which will make commercializing the brewery much easier.
Pros:
&Fully automated brewing process that automates all steps of beer brewing: mashing, spraying, hopping, cooling and even cleaning.
&Full automation not only saves you time, it also gives you more control over brewing and saves your recipes.
&Once you become more professional, you can adjust and perfect your recipes and get the highest quality beer.
&Can brew 4, 6, or even 8 batches in one day.
&Allows you to focus on other important things besides brewing.
&Less labor and less cost.
&Visualization, you can see the brewing process and data of each step completely. And you can look back at the details of each batch of brewing records, time, temperature, sparaging and other details.
Cons:
&The disadvantage of fully automatic brewing may be that the price of brewing equipment is too high.
Add up:
The question is how much time do you have and what is your budget? And whether your current production and sales capabilities are consistent.
If you are currently setting up your own fully automatic Brewery equipment and have a small budget, you may wish to choose Alsotn brewing equipment. Alston's team of engineers provides different solutions for the degree of automation of brewing equipment.
In conclusion to the texts above, which one seems to be better in creating a business of microbrewery? It will always depend on the entrepreneur interest in how he wants his microbrewery business to go.
The advantages of the semi-automated brewery are that you can make a variety of brewed beers that is best if you are planning to open a microbrewery business that was made to handle only a few amounts of beer, where you will open a shop not a factory of a microbrewery in your neighborhood.
There is also less costly for the equipment to be needed for it only uses the traditional ones that are cheaper than the fully automated machines. You can run this business for a family type where in you plan to have different roles in this business.
In contrast, the advantage of a fully automatic Brewery equipment is the superior production rate it can deliver per batch. You can hire fewer people for the machines are the one doing the work. It is only good if you want to make a significant stereotype kind of beer where you are building a brand for your taste of beer.